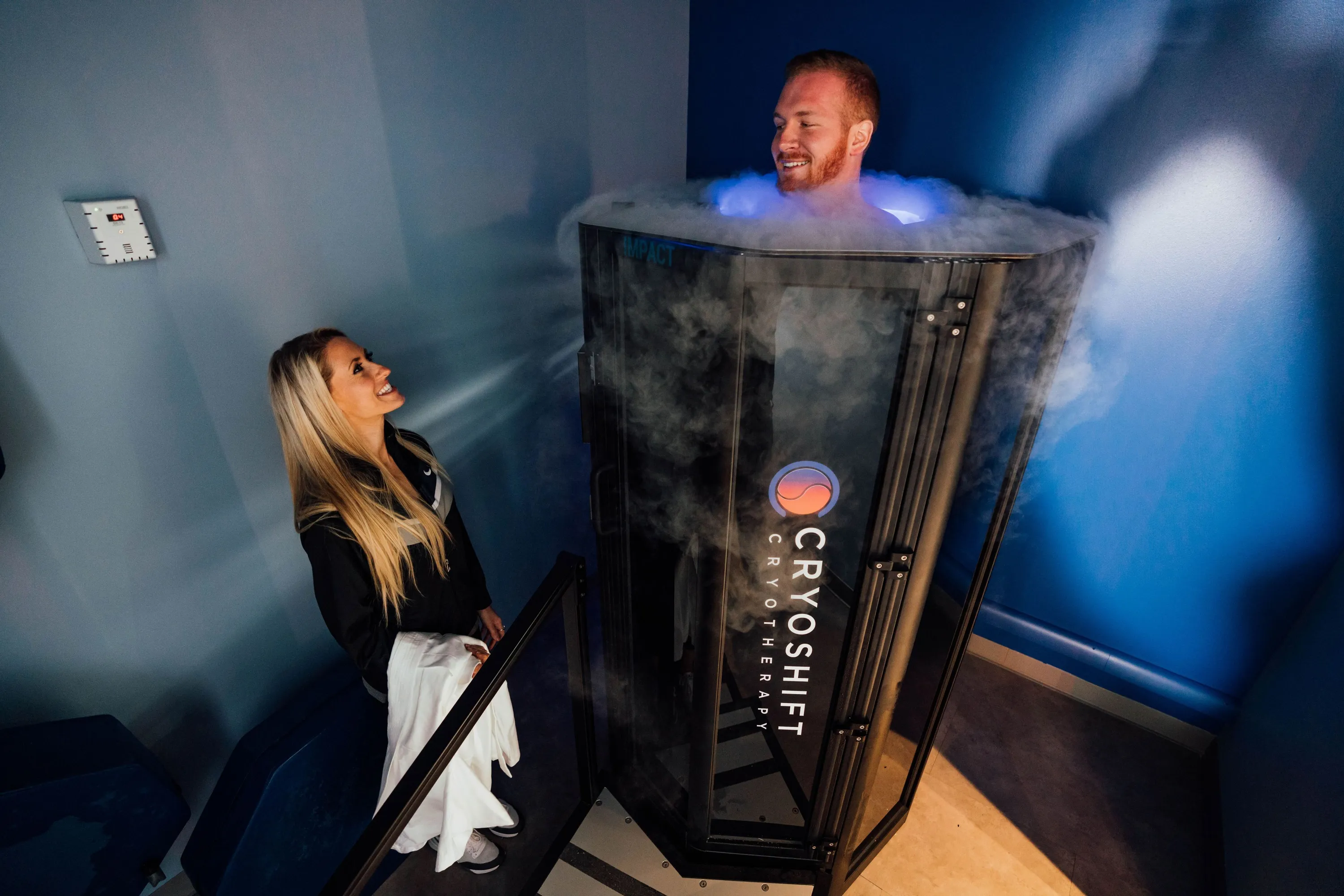 Cryotherapy from an Experienced Chiropractor

At Glendora Chiropractic Center, we integrate cryotherapy with other natural healing techniques to facilitate pain reduction, accelerate recovery, and boost your overall health and wellness.
Contact us at (626) 914-5881 to schedule a consultation.
Sessions starting at: $29.00
Single Sessions
Initial session $29.00
Single sessions $40.00
Packages
6 sessions $180.00
10 sessions $250.00
20 sessions $400.00
Monthly Packages
1 session per week $120.00
2 sessions per week $200.00
What is Cryotherapy?
Cryotherapy is a non-invasive, chemical free, fast and effective hyper-cooling whole body treatment. State-of-the-art technology uses cold therapy in a controlled, maximally effective way to provide a whole body recovery experience that can rejuvenate cells and accelerate healing.
This completely safe 2-3 minute treatment uses nitrogen gas to expose the body to a hyper-cooled state. Bringing the body temperature down to a staggering -200 to -300 degrees Fahrenheit triggers the body's natural healing mechanisms, thus delivering the health benefits of cryotherapy; cell rejuvenation, immune system boost, energy increase and overall system self- healing.
What Does Cryotherapy Involve?
Within the whole body recovery chamber clients may feel an intense adrenaline rush which can create energy and a boosting of the metabolism, as well as release of endorphins for a much needed revitalization. Blood is gently retracted from outer skin cells and muscles during the process and rushed back full of oxygen. The purified blood, improved nutrient flow and removal of toxins generates amplified healing benefits for soft tissue and joints.
Once outside the chamber, you may feel refreshed and replenished and even experience a better nights' sleep.
All clients are monitored by attendant throughout each session.
Benefits of Cryotherapy
Modern cryotherapy can be used to relieve the discomfort of various injuries and inflammations. The flash of intense cold triggers a release of endorphins, your body's natural pain-relieving hormones.
Athletic Recovery
Faster recovery allows for consistent and frequent training schedule that is key to skill development and utmost performance. Cryotherapy can significantly accelerate recovery, reduce inflammation, increase range of motion and flexibility, increase endurance, repair muscle and joint tissue, and provide pain relief.
Mood Disorder Improvement
Along with endorphins, a host of other hormones are released by cold therapy. This can include adrenaline and noradrenaline. Regular cryotherapy sessions have helped some people beat mood disorders such as depression and anxiety.
Migraine Relief
Cryotherapy, alone, or with other interventions, can relieve the symptoms of migraines. This may be because it cools the blood passing though the neck into the head. Cooler blood counteracts the inflammation of the brain's blood vessels that may be behind some migraines.
Naturally Increase Antioxidants
Studies suggest that cryotherapy has anti-oxidative benefits. The cold exposure associated with cryotherapy can also increase your body's antioxidant activity, and protects you from oxidative damage, a contributing factor to the development of chronic disease. The increased antioxidant activity that cryotherapy delivers can protect your tissues, cells, circulating lipids, and cell membranes from this oxidative damage.